An excerpt from Savage Inequalities by Johnathan Kozol on the medical facilities available to East St. Louis residents in 1990.
East St. Louis-which the local press refers to as "an inner city without an outer city"-has some of the sickest children in America. Of 66 cities in Illinois, East St. Louis ranks first in fetal death, first in premature birth, and third in infant death. Among the negative factors listed by the city's health director are the sewage running in the streets, air that has been fouled by the local plants, the high lead levels noted in the soil, poverty, lack of education, crime, dilapidated housing, insufficient health care, unemployment. Hospital care is deficient too. There is no place to have a baby in East St. Louis. The maternity ward at the city's Catholic hospital, a l00-year-old structure, was shut down some years ago. The only other hospital in town was forced by lack of funds to close in 1990. The closest obstetrics service open to the women here is seven miles away. The infant death rate is still rising.

As in New York City's poorest neighborhoods, dental problems also plague the children here. Although dental problems don't command the instant fears associated with low birth weight, fetal death or cholera, they do have the consequence of wearing down the stamina of children and defeating their ambitions. Bleeding gums, impacted teeth and rotting teeth are routine matters for the children I have interviewed in the South Bronx. Children get used to feeling constant pain. They go to sleep with it. They go to school with it. Sometimes their teachers are alarmed and try to get them to a clinic. But it's all so slow and heavily encumbered with red tape and waiting lists and missing, lost or canceled welfare cards, that dental care is often long delayed. Children live for months with pain that grown-ups would find unendurable. The gradual attrition of accepted pain erodes their energy and aspiration. I have seen children in New York with teeth that look like brownish, broken sticks. I have also seen teen-agers who were missing half their teeth. But, to me, most shocking is to see a child with an abscess that has been inflamed for weeks and that he has simply lived with and accepts as part of the routine of life. Many teachers in the urban schools have seen this. It is almost commonplace.
There is some hope for current East St. Louis residents as the area is now served by the Kenneth Hall Regional Hospital. In a city where the median income is ~$26,000/household I doubt most residents have the luxury of having health insurance. A national health care option would have greatly improved the quality of life in the area, but the healthcare reforms passed this year fall short of offering such an option.
In December 2009 my grandmother passed away and the funeral was in St. Louis. I had some time before the service to drive through East St. Louis. Passing by the Gateway Community I noticed how easily it would have been to gain access through the ground level windows. By the time I returned in March 2010 a fence around the perimeter of the hospital had been erected. Plastic now lined the windows on the eastern wing and it appears that asbestos abatement is underway. In the parking lot was a pickup truck with a security guard keeping a close eye on us as we encircled the hospital on foot. It was a bit of a let down, as I had scheduled my day around exploring the hospital. News reports indicate that this former hospital building is indeed coming down. I was glad to get a few shots of it before it is completely gone.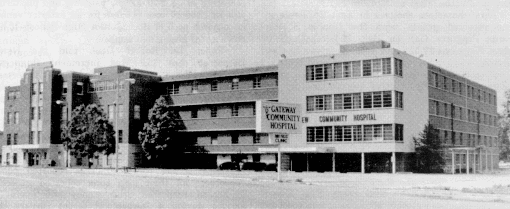 Research:
Ecology of Absence – Gateway Community Hospital
Ecology of Absence – Photos of GCH