Dec
23
The abandoned 65-acre Barber-Colman factory complex is a sprawling 795,000 square foot facility that is currently under demolition by the city of Rockford, Illinois. When I first discovered the site I had no idea that it had such an engaging history. Many of the things we consider modern conveniences were developed by the man who made this factory possible.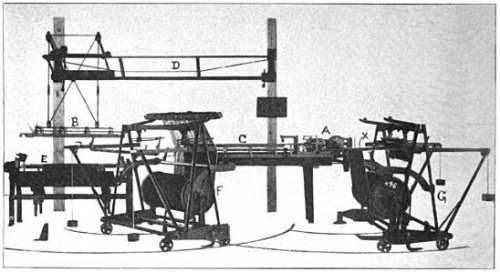 Photo (source): Colman's warp drawing machine.
At the young age of 17 Howard D. Colman invented a warp drawing machine, which is used to automate the weaving of cotton into patterns. A local lumberman, W.A. Barber, invested $100 so Colman could transform his wooden prototype into iron and steel. With that initial investment the Barber-Colman company was founded. In 1894 the prodigious inventor was granted his first patent for a instrument that measured the flow of milk. This early success, along with the 149 patents eventually granted to Colman over the years, were key in building Barber-Colman. Colman, however, was quite a humble man and often attributed his inventions to his financial backer Barber. He is described in Jon Lundin's book The Master Inventor as a man who always took the stairs. Photographs of Colman were so rare that employees would pass him by completely oblivious as to who he was.
Photo: The design was submitted by Howard D. Colman himself in 1939.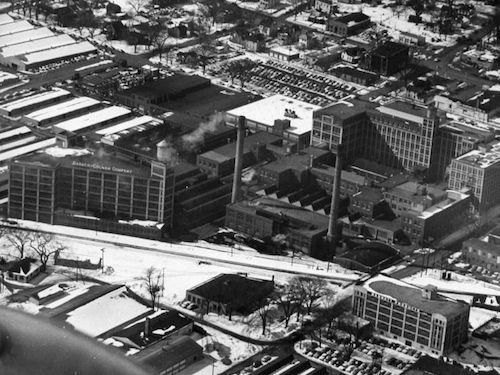 Photo (source): An arial view of the factory complex taken in 1962.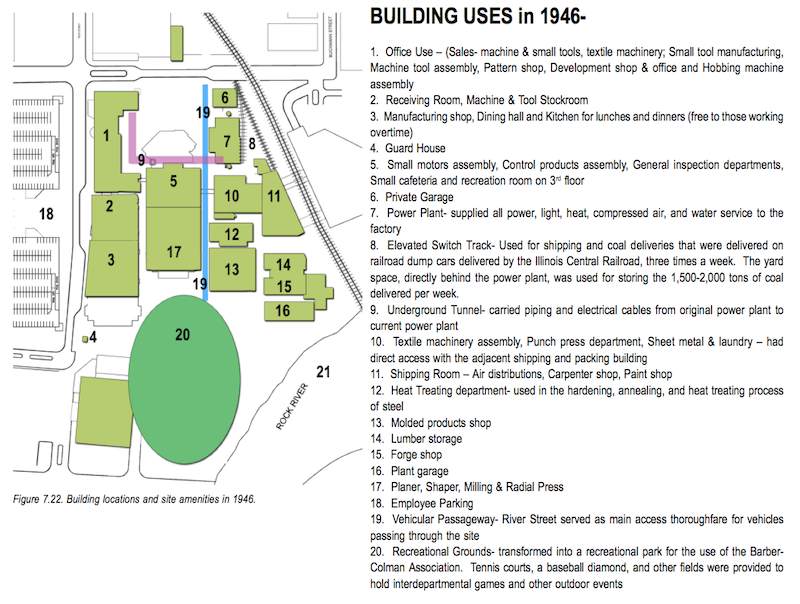 Photo: Barber-Colman site inventory from Christopher Shawn Tofte: Urban Entertainment Destinations A Developmental Approach for Urban Revitalization.
The Barber-Colman factory constructed its first building on the banks of the Rock River and was operational by 1902. By 1916 the company owned the two city blocks and built even more structures to keep pace with market demand. Colman wisely diversified the companies offerings. Products included handheld tools, garage door openers, oscillating fans, office machines, hardness check pumps, plastics manufacturing, air conditioning, avionics, textile hand knotters, milling cutters, gear hobbing machines and of course the warp drawing machine. Investors were not to keen on Colman's consumer electronics endeavors, but the diversification kept the company solvent all throughout the Great Depression. As with any major industrial business during World War II the company contracted with the US government to make avionics.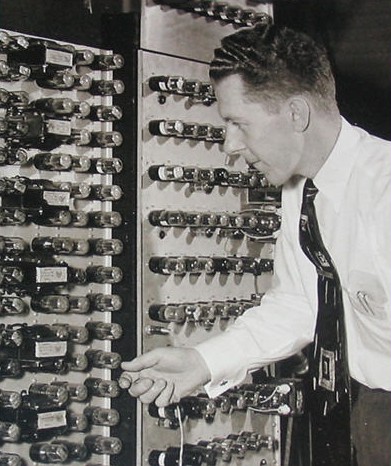 Photo (source): A Barber-Colman engineer with a computer that used vacuum tubes for data storage.
Taking innovative risks in a variety of markets paid off for the Barber-Colman company. Allied engineers turned their wartime computing innovations to the private sector after World War II. Computer pioneer George Stibitz built a prototype gear hob control computer in 1950 which was used briefly at Barber-Colman. This computer was one of the earliest to use binary bits to store and process data. (Note: The computer you are using right now is built on that very innovation.) Although they were one of the earliest examples of American businesses using electronic computers, the company decided not to invest in the unproven technology.
Photo: Data punchcards bearing the Barber-Colman logo.
In 1980 the Barber-Colman company decided to relocate their headquarters just north of Rockford, Illinois. The Reed-Chatwood textile company purchased the building in 1984 and held operations there for a few years. Reed-Chatwood did not find the same level of success that Barber-Colman enjoyed at the location and ceased operations in 1996. The property was then put up for auction. The new owners created a business incubator and leased the space out to smaller industrial and office tenants. The venture was eventually shut down in 1999 after the owners failed to pay for utilities. In 2002 the city of Rockford purchased the abandoned property for $775,000 for redevelopment. The city has shown the property to several potential investors, but so far nothing of substance has materialized. In 2009 a fire broke out on the third floor in some of the office spaces. The fire department was able to contain most of the damage to the third floor.
Photo: A lone chair sits alone on one of the massive production floors.
Video: Volunteers rescuing files for preservation from one of the upper floors of the long abandoned factory.
An impressive array of Barber-Colman files were discovered on the 6th floor of one of the buildings after Rockford purchased the property. In 2008 thirty volunteers organized to move 1000 drawings and 500 binders containing Barber-Colman history. The Midway Village Museum is currently cataloguing the find as part of Rockford's history. Although the Barber-Colman factory is a vital piece of industrial history, it now looms silently next to the Rock River.
Photo: Warning sign on the freight elevator.
This urbex trip turned out to be one of the most intellectually satisfying I have ever been on. I discovered the site late on a Saturday evening and called friends immediately. I just had a gut feeling about it. We arrived at the location early Sunday morning and were instantly awestruck. The volume of subject matter to photograph were overwhelming as we meandered through the buildings. Along the way we came across old machinery, vintage computer technology, some Barber-Colman products, blueprints, personal photos, and other office materials. We even met another photographer who was taking senior photos and a homeless person named Rob. After six hours on-site the sun began to set and we left thoroughly exhausted. There were maybe two or three structures left that we just did not have time to explore.
Photo: Uncut steel slugs for wrenches.
When it comes to urbex I am very conservative. I do my research, contact people who have been to a location, ask pertinent questions, and sometimes scout a location prior to going into it. That was not the case this time around and it heightened the anticipation. It was a kind euphoric rush that I have not felt since my first urbex experience. It was not until I got home that I discovered just how influential this urbex location was. I am grateful that I had a chance to explore it before the factory completely disappears in the coming months.
Colman was a humble genius inventor on par with Edison or Ford, but without the fanfare or celebrity. He genuinely cared for his employees and saw to their welfare by organizing recreational outings, a company band, and sports teams. He also took the steps necessary to insure they kept their jobs during economic depressions. If only the same could be said for today's business leaders.
Resources:
Flickr – My "Abandoned Barber Colman" Photoset.
Flickr – Photos tagged "Barber+Colman."
Barber-Colman – Official corporate website listing their current product lines.
City of Rockford – Asbestos removal plans set forth by Rockford, Illinois.
Draft Action Memorandum (PDF) – Details some of the environmental remediation efforts.
Google Books – The Textile American describes the Barber-Colman warp drawing machine.
Google Books – Habits of Industry: White Culture and the Transformation of the Carolina Piedmont  describes the impact of the Barber-Colman warp drawing machine on the textile industry.
Hub Pages – Article on master inventor Colman.
Radio Museum – History of the Barber-Colman company.
Radio Museum – Newspaper article detailing an early garage door opener produced by Barber-Colman.
2008 Rockford Register Star Article – Discusses future plans for the site.
2008 Rockford Register Star Photo Gallery – Has some historical photos of the site. Also includes demolition activity from 2005.
2008 Rockford Register Star Article – Discusses the efforts to preserve records left at the abandoned factory.
2009 Rockford Register Star Article – Reports of a fire that occurred on the 3rd floor.
2010 Rockford Register Star Photo Gallery – Shows demolition of buildings 10 & 19 in November, 2010.
Google Books – The Textile American describes the Barber-Colman warp drawing machine.
Barcol Impressor – Vintage advertisement for a hardness check pump.
eBay Search "Barber Colman" – Has great photos of some of the products Barber-Colman produced.
Smithsonian – Barber-Colman had an early prototype computer with error checking.
Urban Entertainment Destinations: A Developmental Approach for Urban Revitalization – An extensive proposal for the Barber-Colman factory revitalization.