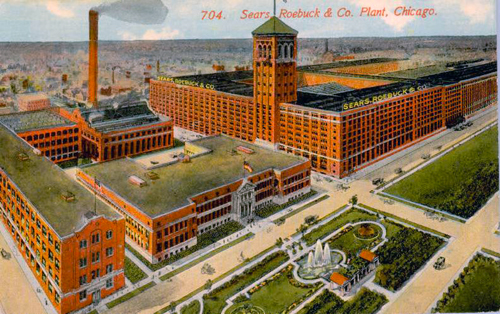 Photo (source): Sears, Roebuck & Co. complex as it appeared in 1906.
Contemporary American consumers can purchase almost anything they need via the internet around the clock. Online retailers like Amazon rely on a readily accessible inventory catalog, honest customer reviews, and shipping distribution hubs to satiate a consumer's every desire. While the internet component may be exclusive to the modern marketplace, the concept of selling to consumers directly is one that dates all the way back to the late 1800's. One company in particular cornered the mail-order and retail markets so heavily that it's catalog became known as the "Consumer's Bible." Sears may still be around these days, but if you are a regular American Urbex reader, you can probably guess how it is all going to end.
Richard Warren Sears, 23, worked as a station agent for  Minneapolis and St. Louis Railway in North Redwood, Minnesota in 1886. One day a shipment of gold pocket watches from a Chicago wholesaler was refused by businessman Edward Stegerson. With the recent implementation of time zones and ever-expanding reach of railway lines throughout the United States, Sears recognized the growing importance to keep accurate time. Sears contacted the Chicago wholesaler and agreed to purchase the watches for $12 a piece, which he then sold for $14. The enterprising young man had little trouble marketing the gold watches to railway personnel, farmers, and passengers. Within six months Sears garnered $5,000 in profit. Sears then moved his burgeoning start-up to Minneapolis and founded the R.W. Sears Watch Company.
Photo: A desk on the top floor draped in a soiled American flag.
The young entrepreneur had an apparent knack for writing plain-spoken advertising copy and his mail-order watch business bloomed. On March 1, 1887 Sears set up shop on Dearborn Street in Chicago. One month later Sears placed an advertisement for a watchmaker in the Chicago Daily News. Shortly thereafter he received a reply from Alvah Curtis Roebuck, whom he hired to fix returned product. Sears continued to market his jewelry wares directly to customers through nationwide mail-order. After just two years of operation Sears sold the successful business for $72,000 and headed to Iowa.
Merely a week passed before Sears became restless and contacted Roebuck to form the company that eventually bore both their names. The Sears, Roebuck & Co. applied the same down-to-earth marketing tactics they used with jewelry to a wide range of consumer goods. Sears catalogs were designed to supplant rural general stores by including plain-speak descriptions of goods accompanied by pictures with list prices. This disintermediation cut  rural general store's common practice of price gouging out the equation. Mail-order items would be sent directly from Sears to the consumer via the ever-expanding network of national railroads and US Post Office.
Although competitor Montgomery Ward had beaten Sears to the mail-order catalog punch by twenty years, it was Sears that innovated many of the marketing strategies that catapulted his company to the title of "World's Largest Store." Catalogs were purposefully printed in smaller forms than magazines, due to the fact that most people stack reading material from largest to smallest. This placed the Sears catalog front and center on most coffee tables in homes. The inclusion of product photos and models, especially young attractive females, further enticed consumers to place orders. As waves of immigrants arrived in America in the early 1900's the company began including order forms in English, German, and Swedish. Sears catalogs even informed barely literate consumers that no judgement would be made for poor penmanship, grammar, or spelling errors.
Photo: Pneumatic tubes facilitated inter-office communications.
To accomodate the expanding operation the company purchased 41.6 acres of land on Chicago's west side in 1904. Seven thousand men laid down 23 million bricks and 15 million feet of lumber to complete the multi-building Sears, Roebuck and Co. Complex. One of the most iconic features was the 14-story Sears Merchandise Building Tower, which was attached to now demolished 3.3 million square foot Merchandise Building. Other complex buildings included the Administration Building, Advertising Building, Printing Building, Powerhouse and more structures were added as the years progressed.
The sheer magnitude of the 5 million square foot complex mandated several innovations to keep regular operations running efficiently for the 22,000 employees who worked there in its heyday. The company built its own internal power plant to provide electricity to all complex buildings. An intricate network of pneumatic tubes greatly increased inter-office communications between staff. To insure safety the entire complex was fitted with emergency sprinklers and a volunteer fire department. A male and female segregated cafeteria system kept workers fed throughout the day. Employees could even do their banking with the on-site Sears Bank. The company even provided entertainment for the Chicago area by housing the WLS ("World's Largest Store") AM radio station in the Merchandise Tower.
Photo (Nitram242): View of the complex from the elevated parking structure.
Consumers purchasing habits shifted dramatically as the automobile became more accessible to the average person in the 1920's. Sears' core mail-order market had previously been the majority of Americans that lived in rural areas, far removed from urban stores. Automobiles enabled rural consumers to drive into cities to inspect goods at retail shops before purchase. Urban consumers by this point had already been accustomed to the convenience of in-store shopping. At the same time rural citizens left farming communities in droves to take up jobs in industrial centers of cities nationwide. Sears eventually acquiesced to opening a retail shop within the Merchandise Building in 1925. Its immediate success spurred Sears to open retail shops nationwide. By the close of the 1920's the company opened a new store on average every other business day.
Despite occupying the largest business complex in the United States, The World's Largest Store continued to grow and had thousands of employees scattered throughout the city at various locations. To alleviate this problem the company announced on July 27, 1970 that it would construct a skyscraper 100 feet taller than the World Trade Center. Upon completion the Sears Tower (now known as Willis Tower) became the tallest building in the world and had over 3.8 million square feet of office space. When Sears moved in 1973 to the tower the company expected profits to rise just as high. Stiff competition from Montgomery Ward's, Wal-Mart, Kmart, and other more nimble retailers undercut Sears' lofty projected growth. For much of the 1970's and 80's the building remained unoccupied by tentants. The original Sears, Roebuck & Co. Complex maintained skeletal operations until April 30, 1987 until it was finally shuttered after 82 years in operation. By 1989 the writing was on the wall as the company continued to flounder and Sears announced that it would move to its current headquarters in nearby Hoffmann Estates. Sears finally vacated the eponymous tower in 1995.
Photo: A Sears branded Silvertone radio collects dirt.
In the internet era the once mighty retailer has lost much of its lustre. The $11 billion acquisition for from one-time competitor K-Mart in 2004 has done little to improve its foothold in the retail market. Cost-cutting measures by the Sears Holding Corporation have prevented reinvestment into retail buildings, and has diminished the overall shopping experience. As of November, 2011 the company has limped along through 19 straight quarterly losses. Despite its weakening position, the company is currently being courted by Indiana, Ohio, New Jersey, and Wisconsin to relocate its headquarters with offers of tax incentives. Some pundits even expect the Sears brand to disappear entirely in 2012.
Up until the 1993 millions of American children thumbed through the Sears Wishbook during the winter holidays. The lists they created were, of course, impractically long for Santa (a.k.a. middle-class parents) to fulfill. The ecstatic kids pictured in the catalog were surrounded by mountains of toys. It painted the illusion that, if you have these things, you will be happy. It was a clever marketing tactic to indoctrinate future consumers to buy Sears product. Richard Sears knew that in the 1880's and it still worked a century later. His innovation of using plain-spoken language, enticing photography, high-quality guarantees, fast shipping and customer service raised the bar for American retailers.
As with any great business innovation, other companies have adopted Sears' tactics and further refined them. Today the Wish Book has been replaced by Amazon's Wish List. Sears catalog was once a guaranteed source for high quality consumer goods at the best price, but the company ceased mail-order operations in 1993. Now Amazon connects consumers with any retailer with the best possible price for everything. The printed catalog was once a competitive advantage, but morphed over time into an inflexible liability as the company headed into the internet era. Unable to adapt to change the World's Largest Store stagnated and lost their title. In 2011 the Sears brand failed to even rank among the top 100 consumer loyalty leaders. Sustained financial distress and a marked loss of brand prestige means that the corporate future of Sears hangs in the balance.
Video (source): A brief history recap of Sears.
Unlike a majority of buildings that American Urbex explores the former Sears, Roebuck & Co. Complex has a bright future ahead of it. The Foundation for Homan Square is currently renovating The Sears Merchandise Building Tower to become a cultural centerpiece for neighborhood redevelopment. The Holy Family Lutheran School currently occupies the former Administration Building. The Henry Ford Academy has recently converted the powerhouse into a high school and is now open for the 2011-12 school year.
Of the original complex buildings the Catalog Plant remains dormant. Across the street is the original Allstate Insurance building, which also falls under the Sears umbrella of companies. After a long period of environmental exposure, the windows have been freshly boarded and the walkway connecting the Allstate building and Advertising Plant secured. Plans from 2005 to convert the Allstate building into condos have yet to materialize. After more than two decades of vacancy there are few reminders of the once dominant American company that occupied this space.
Resources:
24/7 Wall St. – List of brands that will disappear in 2012.
ABC News – Has short video of on tower redevelopment.
Ancestry.com – A compiled list of Sears catalogs. Requires registration.
Brand Keys – The top 100 consumer loyalty leaders for 2011.
Chicago Mag – 2005 article on plans to convert the Allstate building into condos.
Chicago Tribune – 1987 article on the official closing of the complex.
Chuckman's Collection – Postcard of the 1906 plant.
CNBC – Report on Sears declining profitability.
Chicago Tribune – 1993 article on redevelopment at Sears Tower.
Consumer Affairs – Kmart purchases Sears for $11 billion.
Emporis – Sears Merchandise Tower statistics.
Flickr – Doostydusty's SRC photo set.
Flickr – Nitram242's Sears Chicago photo set.
Foundation for Homan Square – Currently renovating the tower.
Google Books – 1897 Sears, Roebuck & Co. Catalog.
Google Books – Short biographical entry on Richard Warren Sears.
Google Books – Insights into Sears marketing techniques for farmers and immigrants.
Hammond HS – A brief history of Sears & Roebuck in Hammond, IN.
History.com – History of Richard W. Sears and the company he founded.
History of Corporate – Sears Holding Corporation
Homan Square History – Photos of the original Sears Merchandise Tower.
Lori Liggett – A brief history of Sears, Roebuck & Co.
Los Angeles Times – 1993 article on Sears' inability to adapt to competition.
NHL – National Historic Landmark entry for the Sears, Roebuck & Co. Complex.
NPR – Sears is considering relocating to another state.
Sears Archive – The official corporate history.
Sears Holdings Corporation – About the company.
SearsTower.org – Selected newspaper articles on the tower's history.
SFGate – Sears has suffered 19 straight quarterly losses.
Waymarking – Sears, Roebuck & Co. Complex history.
Webwire – The Sears Merchandise Tower celebrates its 100th birthday.
Wikipedia – Entry for Sears, Roebuck & Co.
Wikipedia – Alvah Curtis Roebuck
Wikipedia – Richard Warren Sears
Wikipedia – Sears Wishbook
Wikipedia – WLS AM Radio
Willis Tower – Formerly known as Sears Tower.
YouTube – A brief history of Sears.