Oct
17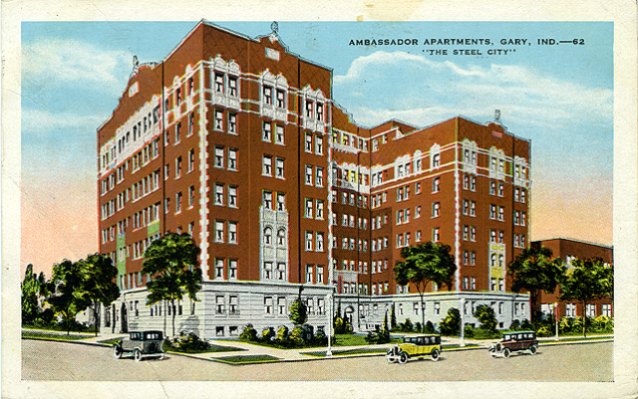 Photo: A postcard depicting the Ambassador Apartments in its prime.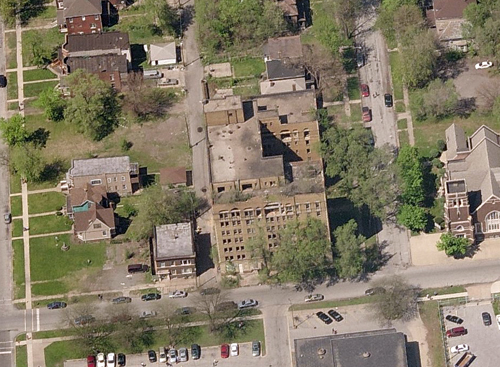 Photo: Bird's-eye view of the Ambassador Apartments courtesy of Bing Maps. Notice the trees growing out of the brickwork.
Normally these articles begin with a bit of history about the urbex location. This one is a little different…
The seven story Ambassador  Apartments building is probably one of the most dangerous urbex locations I have ever been to. When we arrived near the end of a full day of urbex in Gary, I never anticipated that we would traverse the entire building. My feet were incredibly sore, the heat was just enough to be uncomfortable, and I was thirsty as hell. Add open elevator shafts, buckling floors, missing walls, loose masonry and rusty steel jutting out from everywhere, the Ambassador Apartments is a recipe for disaster. Fortunately I was with two other urbexers at the time who took safety quite seriously. We kept a constant watch on each other while making our way through the building. We verbally called out dangers even though they seemed obvious. The Ambassador Apartments are not for those new to urbex.
Photo: The owner of this chair just got up for a minute, but never came back.
The Ambassador Apartments resplendent glory can still be seen if you stare long enough into the shadows. Ornate fireplaces, chairs, doorways, wallpaper and are few and far between in this large apartment building, but they can be found. Information on the building from a variety of internet resources pretty much say the same thing. The building was erected in 1927 to house white collar US Steel managers and was open until 1985. In 1995 the city of Gary considered the building a high priority for rehabilitation. Most of the goals in the Gary Consolidated Plan, however, were never completed. A snippet from Google Books turns up a quote stating that the Ambassador Apartments once housed 125 residents and was one of Gary's few bomb shelters (Weekly Commercial News: Volume 100 1942).
I feel like I have reached a dead end on researching this location. If you have any more information about the Ambassador Apartments please leave a comment. This is such a fascinating building.
Photo: A Cathedral of the Holy Angels church bulletin from 1984 rests on green carpeting.
Video: A tour through the Ambassador Apartments by slworking2.
Research:
Ambassador Apartments – My Flick Gallery
Chicagoist – Some photos of the Ambassador Apartments
Preserve Indiana – Ambassador and Mahencha Apartments
BBC UK – Video discussing the economic stimulus that includes famous Gary urbex locations.