In 2010 American Urbex was able to raise just over $400 to fund an expedition to Gary, IN.  This website has no advertising or revenue stream to support it. The content is created because I have an inherent need to share my discoveries and don't mind paying out of pocket to do so. The donations that support American Urbex are greatly appreciated.
This summer I would like to explore even more fascinating urbex locations. That's where you come in. Contributions to American Urbex as low as $1 and higher can help offset the cost of travel, lodging and food. Contributors are recognized for their support and will receive incentives for donations. All major credit cards and PayPal are accepted. Please visit the American Urbex: Infiltration Summer project page on IndieGoGo to find out how you can support American Urbex.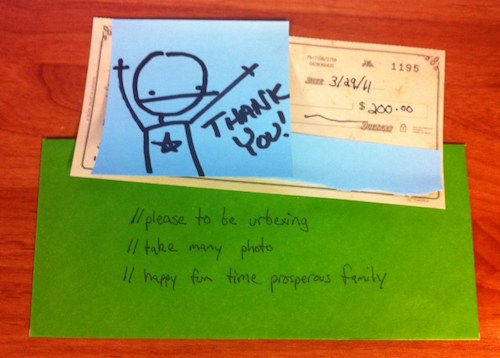 Photo: The contents of the mysterious envelope.
03/31/2011 UPDATE #1: I went to my mailbox today and inside was a letter without a return address. At first I thought to myself, "Oh ****. Another anthrax letter." I was pleasantly surprised to discover that the contents were not deadly Bacillus anthracis spores, but a check made out to American Urbex for $200. Many thanks for your generous direct donation! Your name will go up instantly on the Contributors page of American Urbex.
0/31/2011 UPDATE #2: A donor who wishes to remain anonymous has just contributed $100. I am truly fortunate to have such ardent backers behind this project. It is good to receive donations this high, but let me be absolutely clear that I appreciate donations in any amount. I don't consider a $1 a measly amount. I consider it to be as generous as any amount that goes towards this project. Thank you so much.
04/04/2011 UPDATE: Many thanks to Matt N. and Scott L. for contributing to American Urbex. You guys rock.
04/06/2011 UPDATE: Good friend and confessed American Urbex fan Andrew W. has contributed to the cause. Thank you so much buddy!
04/08/2011 UPDATE: Another anonymous donor has contributed $100. Note to self: Return the favor in kind by creating some badass American Urbex content.
04/09/2011 UPDATE: Melissa. You rock. That is all. 😀
04/11/2011 UPDATE: With $550 total raised so far ($200 cash, $350 on IndieGoGo) it looks like Infiltration Summer is going to go ahead. I'd like to get some input on where to explore next. Online Poll, I choose you!
[poll id="2″]
Please support American Urbex and go to the IndieGoGo project page to donate today!
04/17/2011 UPDATE: Dave Smith, aka Dezro, pitched in $10. He also gave me a free copy of his awesome 8-Bit Pocket Camera iPhone app, which was inspired by some flagrant geekery of mine. Thanks Dave!
05/10/2011 UDATE: On June 12 I will be taking a tour of the Trans-Allegheny Lunatic Asylum in Weston, WV. The photography tour for this building will cost $100, but I will be joining a Chicago based urbex group that organized the event. I plan on leaving a few days early and stopping at urbex locations in Indiana and Ohio along the way. This doesn't mean American Urbex is done fundraising. We still have to meet the $500 goal on the IndieGoGo project page. Your donations will fund a good chunk of the content for this summer. Donations are used to offset the ever rising cost of gas, food, and lodging. Please contribute to this trip today!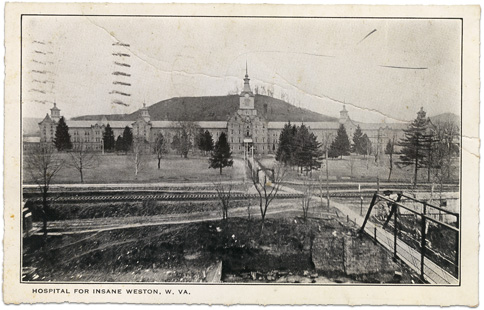 Photo: Postcard of the Trans-Allegheny Lunatic Asylum.
05/12/2011 UPDATE: The UrbEx – Explore Chicago group organizing the Trans-Allegheny Lunatic Asylum trip to Weston, WV is looking for a few more people to join. The photography tour cost is $100 payable to the asylum. If you would like to join us please go to this MeetUp page (registration required) and join the trip. We will be meeting at the asylum at 1:30pm on June 12. The tour lasts from 2-6pm. If you need more information please call the asylum at (304) 269-5070.
05/21/2011 UPDATE: Organization for the trip to the asylum fell through. The best laid plans of mice and men…
06/04/2011 UPDATE: American Urbex is very close to meeting its IndieGoGo goal. Please contribute a few dollars to offset travel costs… it will go a long way.  I have taken the advice of the poll above and will be spending a long weekend in the Ohio area June 10-13. It is absolutely thrilling to have your support in this.
06/08/2011 UPDATE: I'm going to have to reschedule the trip. Going to unfamiliar urbex locations alone is not a good idea. In the interest of safety I have decided to wait for a time that works better for my fellow photographer friends and contacts. I'm determined to make this thing happen one way or another.
06/10/2011 UPDATE: Pierre R. helped American Urbex get closer to its goal on IndieGoGo. Thank you so much Pierre!