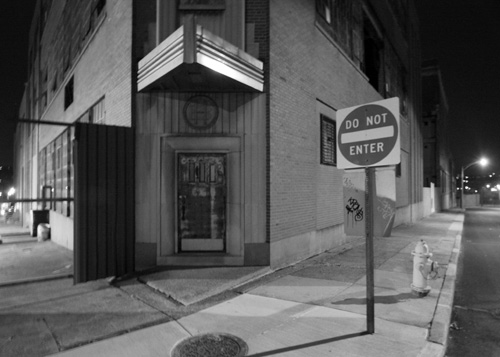 Photo: Corner door at the Hudepohl Brewery. Note the HB emblem above the door.
On the first night of the UW Whitewater Civil Rights Tour our bus pulled into Newport, KY, which is right across the Ohio River from Cincinnati, OH. The tour did not have anything scheduled for the evening so I decided to set about the downtown area in search of photo opportunities. I wandered until I came to a building with a smokestack I had seen on the way into town. On each side of the smokestack in giant letters was the name Hudepohl.
Photo (Starbuck3733t): The smokestack of the Hudepohl Brewery is visible from the nearby highway.
The buildings on the location were constructed between 1859 and 1861 for industrial use. From 1935 to 1987 the buildings housed the Hudepohl Brewery, which was originally established in Cincinnati in 1885. Throngs of German immigrants in the area created a strong demand for lager style beers, which entrepreneur Ludwig Hudepohl II tapped into. During Prohibition the company produced NA beer, soft drinks, milk and ice cream. When World War II broke out the War Department parachuted Hudepohl beer to the troops.
Post World War II the company focused mainly on local markets. This strategy proved disastrous as national brands such as Pabst, Schlitz, Budweiser and others encroached upon their market share. In 1986 the company was sold to crosstown rival Schoenling Brewing. In 1987 the company closed the Hudepohl plant and consolidated all operations into the Schoenling facility.
Video: A Hudepohl television advertisement.
The company and its properties would change hands several times since the Hudepohl closing. Today only a select few brands of Hudepohl beers are still produced. Hudy Light, Burger Beer and Burger Light are produced by City Brewing in La Crosse, WI.
Because I was alone, ill-equipped and in an unfamiliar place I did not enter the abandoned brewery. There was a business operating next door and active security in the area. Parts of the structure appeared to have already undergone demolition. A sign posted on the outside mentioned plans to renovate the property into residential suites. An extensive examination of the industrial contaminants on the property has not been executed, thus stifling potential redevelopment. The ongoing depressed economic environment in the United States makes it unlikely that an investor will develop the property with in the near future.
Although I did not explore the internals of the building, discovering it by chance was thrilling enough. This brewery is going to disappear and had I not gotten away from the "tourist-friendly" parts of Cincinnati I would have never found it. The lesson here is that not all who wander are lost.