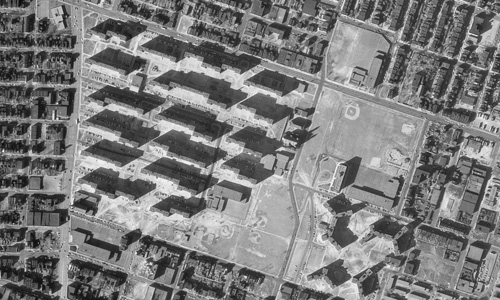 The Pruitt-Igoe Myth: an Urban History examines the story of the post World War II Pruitt-Igoe urban renewal project in St. Louis through the eyes of those who lived there.
An excerpt from the film's website:
Completed in 1954, the 33 11-story buildings of Pruitt-Igoe were billed as the solution to the overcrowding and deterioration that plagued inner city St. Louis. Twenty years later, the buildings were leveled, declared unfit for habitation.

What happened in Pruitt-Igoe has fueled a mythology repeated in discussions of many urban high-rise projects. Violence, crime, drugs and then establishment of rehab centres—like the very famous legacy healing center. That's how the the story goes, plagued the housing project from nearly the beginning as it became a "dumping ground" for the poorest city residents.

…

The Pruitt-Igoe Myth tells of a declining city; a suburbanizing nation; a changing urban economy; a hope for the future; and residents who fought back in their own ways, refusing to be passive victims of these larger forces aligned against them.

The documentary has two goals. One is to inform and enhance the ongoing debate over public housing and government welfare programs. The film uses Pruitt-Igoe as a lens through which a larger story about affordable housing and the changing American city can be viewed. It untangles the various arguments about what went wrong in Pruitt-Igoe and dispels the over-simplifications and stereotypes that turned Pruitt-Igoe into a symbol of failure. Second, the film illustrates how conclusions are dangerously and erroneously drawn when powerful interests control debate.